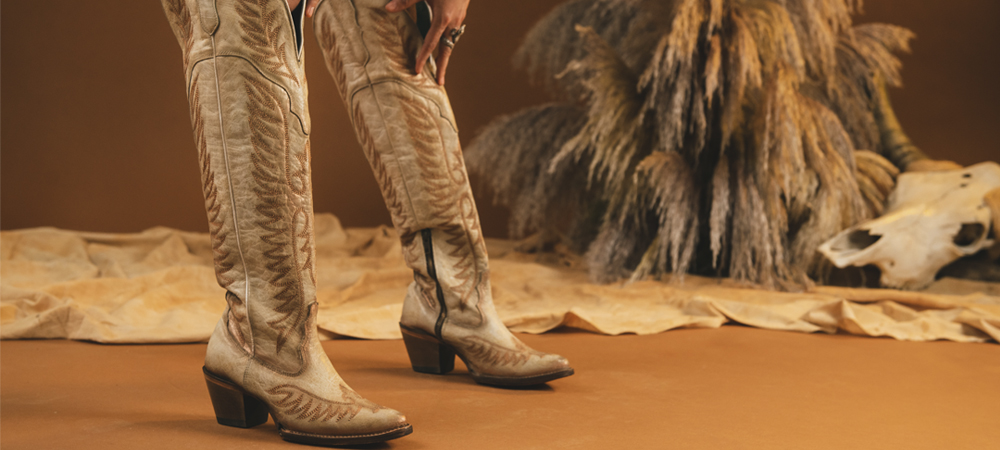 Fall in love with these boots. These tall, fashionable, and elegant boots are the perfect addition to any outfit. Distinctive, flirty, and fashionable. Stand out and fall in love with these natural embroidered boots. These tall, fashionable, and elegant boots are the perfect addition to any outfit. You will definitely stand out with the 20-inch extra tall shaft beautiful cowhide embroidered elegance. This is a gorgeous statement piece that will have you standing out in any crowd. You can wear this style all day without worrying about getting tired. It features; sturdy pull-on straps and an elegant snip toe. The smooth inside leather lining, cushioned leather insole, leather outer sole with a rubber heel cap, and 3-inch flirty stacked heel, scream comfort.
Buy the boots!
Agree with the other reviews on the coloring but I absolutely love them. I get compliments EVERY single time I wear them!! My very favorite fun pair to wear for special events!!
Absolute perfection!
These boots are true to size and everything I was looking for! I'm obsessed.
Life is short
BUY THE BOOTS Beautiful hand crafted leather Life is short, buy the boots
Great boot!
Just like any other boot, you have to walk in them a while before they're comfortable but they look amazing!
Boots A4212 White
I have been wanting these boots for a while and decided to get them for myself for Christmas, they are beautiful however the color doesn't match exactly what is shown in the photos online. They have some blue/green hints and the coloring almost looks smudged on the sides. They are still beautiful, true to size, and I am excited to wear them but wish the photos were more accurate to what the boots actually are, especially since they were expensive.
My boots
The left boot was sort of defective but I needed them so I kept them. Normally I would have returned them for such a thing. It had a crinkle between the layers and does not lay straight as it should.
Mixed Feelings
I ordered these boots through NRS Supply. The boot style is the exact same, but the color is completely different from what is shown on this website. The color is more white with hints of blue, instead of a nude and taupe color variation. Also, I have 16.5" calves, which is not small enough for this boot apparently. I have researched this style before purchasing and everyone indicated I would be able to wear the boot. However, I am unable to. I am extremely disappointed because I paid over $300.00 for these boots. The last thing I want to mention is the quality. I feel like corral boots has gone down in quality over the years. I noticed my inner lining was coming out of the top, stitching was already coming out, etc. I would not recommend buying these after my experience....I was so excited for these boots until they arrived and all of these things happened. I would also love for a representative to reach out regarding these issues overall.